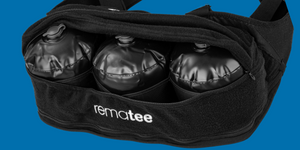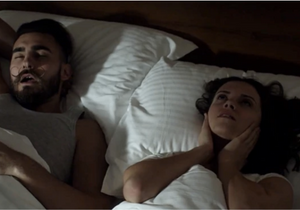 Stop Loud Snoring and Choking Sounds
Are you sick of snoring EVERY. SINGLE. NIGHT?
Are you constantly tired?
Is your partner complaining about your sleep?
Do you wake up groggy and tired every morning?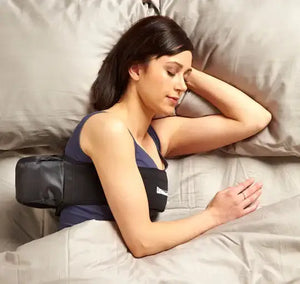 Experience Ultimate Comfort with Rematee's Side-Sleep Solutions
1. Sleep Like Never Before
Discover the magic of a peaceful night's sleep with Rematee's Side-Sleep Solutions. Crafted meticulously for side-sleepers, our product ensures you drift into a deep slumber without interruptions. Say goodbye to restless nights and embrace mornings filled with energy and positivity.
2. Breathe Easy, Snore Less
Our inflatable bumpers are designed to position your body perfectly, reducing the chances of snoring. Worn comfortably loose the strategic design promotes better airflow throughout the night. Wake up feeling refreshed, with a clear mind and a rejuvenated spirit.
3. Satisfaction Guaranteed
We believe in our product's ability to transform your sleep experience. If, for any reason, you feel the Rematee doesn't fit or feel right, we've got you covered. Dive into a risk-free journey towards perfect sleep.
Click Here + Choose your Style

Featured Media & Testimonials
Featured Media & Testimonials

Tip: Wear the belt loose
Keep the shoulder straps snug so the belt and inflatable bumpers hold your upper body on-your-side. Wear the belt loose so your breathing is relaxed and unrestricted.
Inflatable bumpers adjust to provide the best positional support and comfortably curve around your body.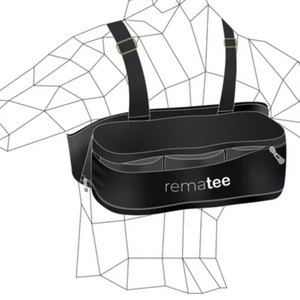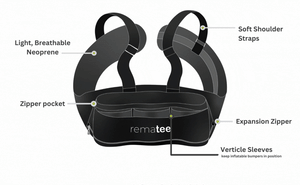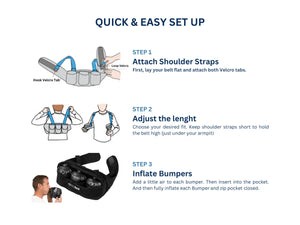 Scientifically Proven Sleep Solutions at Rematee
Are you among the countless individuals battling snoring or sleep apnea? We understand the challenges and the countless attempts to find that perfect solution. Many have invested in CPAP and dental devices, only to be left searching for better alternatives.

Here's a game-changer: Our founder's transformative experience at the UBC Hospital Sleep Lab. In 2007, a comprehensive split night PSG sleep study revealed a simple truth. Sleeping on the side significantly improved breathing, maintained oxygen levels above 99%, and ensured a deep, uninterrupted sleep.

Why is this important for you? At Rematee, we prioritize our customers' comfort, ensuring products that are not only durable and long-lasting but also portable for on-the-go convenience. Dive deeper into the insights from the UBC Hospital Sleep Lab study below. Elevate your sleep quality and embrace a healthier lifestyle. Explore Rematee's customer-approved products now and experience the transformative difference tonight. Don't wait, secure better sleep today!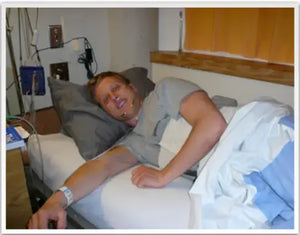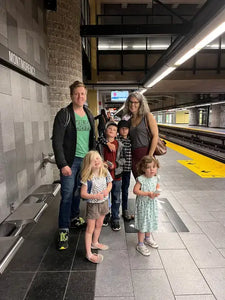 Sean's Quest for Restful Nights: A Founder's Journey
Every individual deserves a night of uninterrupted, deep sleep. But for many, snoring and sleep apnea become barriers to this simple luxury. This was the challenge that led to the inception of Rematee. While side sleeping emerged as a potential remedy, maintaining that posture throughout the night wasn't straightforward.
Enter the Rematee bumper belt - a game-changer in the world of sleep solutions. Crafted with meticulous attention to detail, it's designed to ensure you remain in the optimal side-sleeping position, reducing the chances of snoring and sleep interruptions. Imagine drifting into a peaceful slumber, breathing effortlessly, and waking up feeling refreshed and ready to conquer the day.
At Rematee, our focus is on you and the quality of sleep you achieve. We believe in the transformative power of a good night's rest and the positive ripple effect it has on every facet of your life. Dive into a world of serene nights and rejuvenated mornings. Experience the Rematee difference today.
SHOP SLEEP PRODUCTS